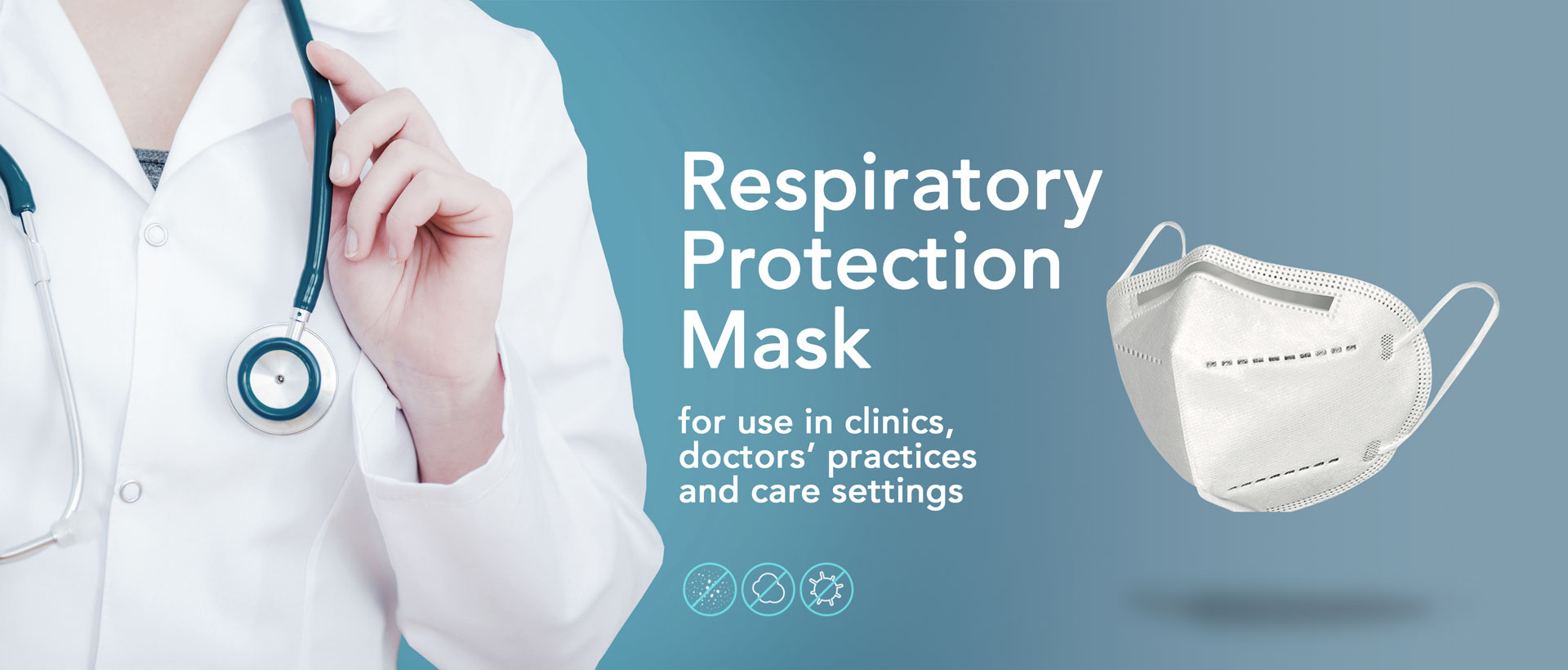 The mdd Respiratory Protection Mask is developed for medical areas of application; it offers reliable protection against airborne infectious agents and mutagenic substances, as well as aerosols and non-volatile, liquid particles.
The large-area, high-performance filter of the medical mdd Respiratory Protection Mask protects both wearers and their surroundings alike. It ensures the highest level of safety for medical specialists and patients in the operating theatre and under hygienic conditions.
Classification
Medical device class I acc. to EU directive MDD 93/42 EEC.
EN 14683:2019
Standards
The respiratory protection mask meets the requirements for protection class Type IIR surgical masks according to
EN 14683:2019.
Additional standards:
EN 1041:2000/A1:2013
EN ISO 10993-1:2009
EN ISO 10993-5:2009
EN ISO 10993-10:2010
ISO 15223-1:2017
Use
The MDD respiratory protection mask
protects against airborne infectious agents, as well as aerosols and nonvolatile liquid particles up to 30 times the application limits.
National regulations must be observed.
Wear time
Dispose of after single use.
Storage
In the original packaging, cool and dry, out of direct sunlight.
Disposal
Safe thermal recovery or disposal in landfill. In the event of contamination, applicable laws and national regulations must be observed.
Features
Extra large filter area

Breathing resistance

Optimal wear comfort through expansion fold design
Elasticated straps
Inner, flexible nose bridge with foam
Extended wear time
Space-saving storage
Secure fit through the elastic band
Individually hygienically packaged in a bag
Product code: PM-NV-W
Product description: without valve
The half mask meets the requirements of
DIN EN 14683:2019 for medical face masks / Classification Class Type IIR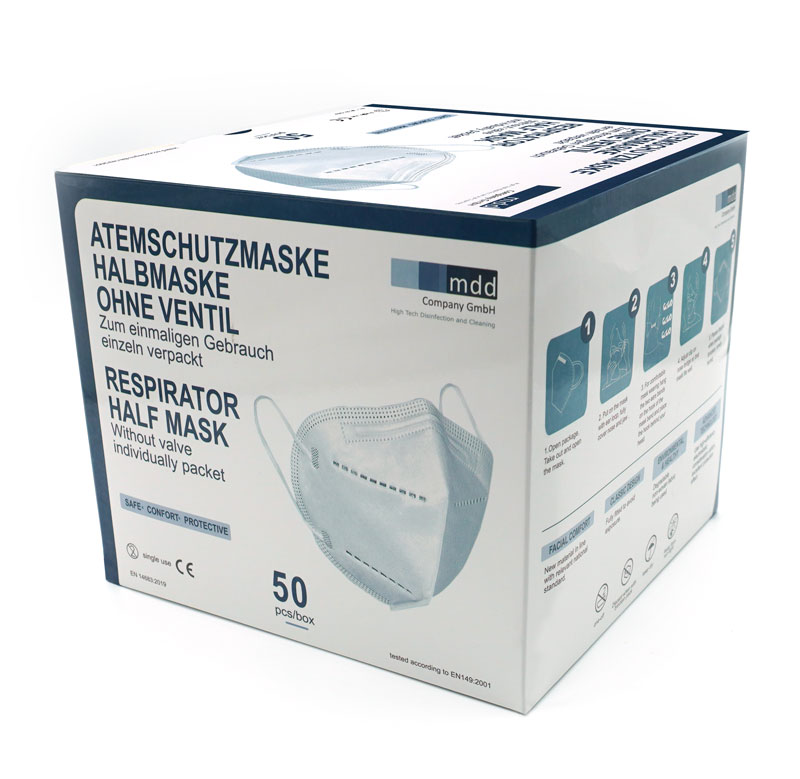 Accessory for more confortable wearing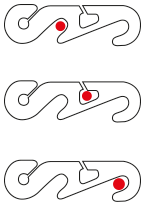 Requirements of the standard




EN 14683:2019

TYPE IIR

Bacterial filtration efficiency (BFE)




meets the following requirements

≥ 98 %

Spray resistance meets




the following requirements

≥ 16.0 kPA (B 120 mmHg)

Antimicrobial cleaning meets




the following requirements

≤ 30 CFU/g
CFU = colony-forming units
Material

Inner & external layers

Non-woven polypropylene

Protective layer

Non-woven polyester

Filter material

Polypropylene

Nose bridge

Iron wire covered with
polyethylene, detectable

Nose cushion

Polyethylene foam

Straps

Latex-free synthetic rubber