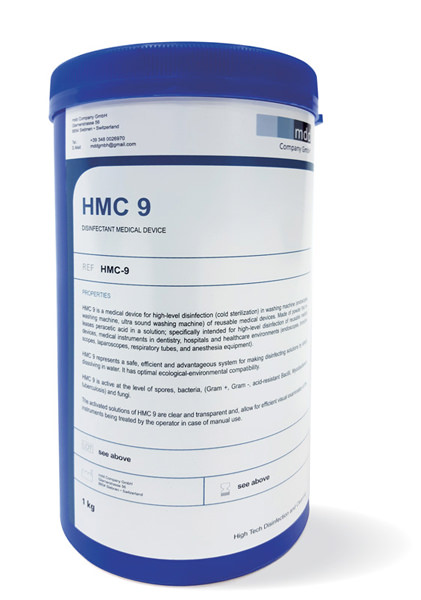 HMC9
HMC9 is the first powder compound specifically suitable for specifically studied and developed to be used in A.E.R. (Automated Endoscope Reprocessor), in instrument washing machine for high-level disinfection (chemical cold sterilization) of medical devices such as endoscopes, bronchoscopes, laparoscopes, respiratory tubes, and anesthesia equipment in hospital environment, dental practices, medical health care centers.
The biocidal activity is confirmed at the level of virus (including hepatitis B, C and HIV viruses), spores, bacteria (Gram +, Gram -), acid-resistant Bacilli, Mycobacterium tuberculosis and fungi.
The perfect solution of the powder in simple tap water even at low temperature and with short contact time allow the operator the use of HMC 9 in very fast disinfection cycles (about 10 min).
Fast dissolution in simple tap water
Perfectly clear solution
High PAA in short time
Extremely flexible (powder dissolution from 30° to 42°C)
Short contact time
No toxic
No corrosive
High material compatibility
No Boron emission (complying with the EEC regulations and the W.H.O. advices)
High dilution (15-20 gr/Lt)
No harmful for operator