The mdd surgical FaceMask is developed to prevent any transmission of airborne infectious agent. The hig performance tested under the EN 14683:2019 confirm the efficacy of our facemask in professional areas
Classification
Medical device
EN 14683:2019 Type IIR
Standards
The respiratory protection mask meets the requirements for protection class Type IIR surgical masks according to
EN 14683:2019.
Additional standards:
EN 149:2001+A1:2009
EN 1041:2008
EN ISO 10993-1:2009
EN ISO 10993-5:2009
EN ISO 10993-10:2010
ISO 15223-1:2016
EN ISO 14971:2012
Use
The mdd surgical Face Masks
Are projected to avoid droplet spreading secreted by human saliva and to prevent the transmission of pathogens.
The user of the Face Mask can be a healthcare professional or a patient who wants to protect themselves or others from transmission of pathogens.
Wear time
Dispose of after single use
Storage
In the original packaging, cool and dry, avoid the direct sunlight
Disposal
Safe thermal recovery or disposal in landfill. In the event of contamination, applicable laws and national regulations must be observed.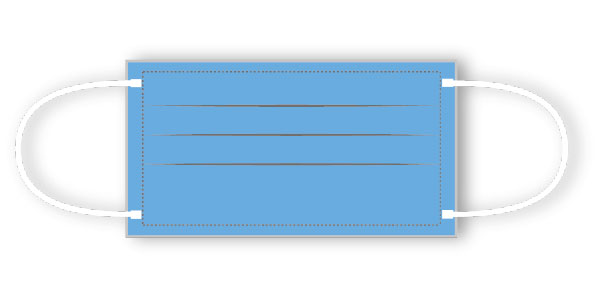 Features
with nose-bridge

glass fibre free

with earloops

elastic loop round covered with cotton
Product code: FM-NV-B
Product description: Surgical Face Mask
The Face Mask meets the requirements of
DIN EN 14683:2019 for medical face masks / Classification Class Type IIR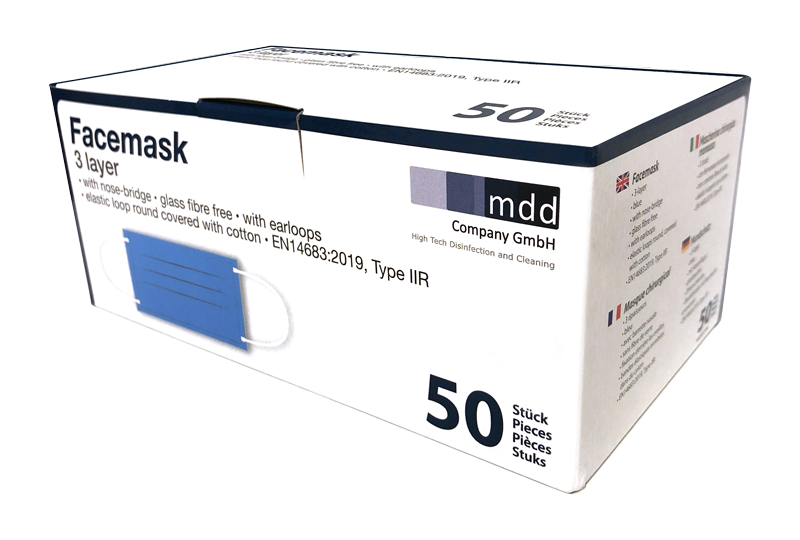 Requirements of the standard




EN 14683:2019

TYPE IIR

Bacterial filtration efficiency (BFE)




meets the following requirements

≥ 99,3 %

Breathability
(Differential pressure) Pa/cm2

≥ 19.9

Splash resistance

Pass

Microbial cleanliness (Bioburden)

≤ 30 CFU/g
CFU = colony-forming units
Material

Inner & external layers

Polyester Fabric

Filter material

Non-woven polypropilene

Nose bridge

Iron wire covered with
polyethylene, detectable

Ear Loop

Nylon+Rubber band