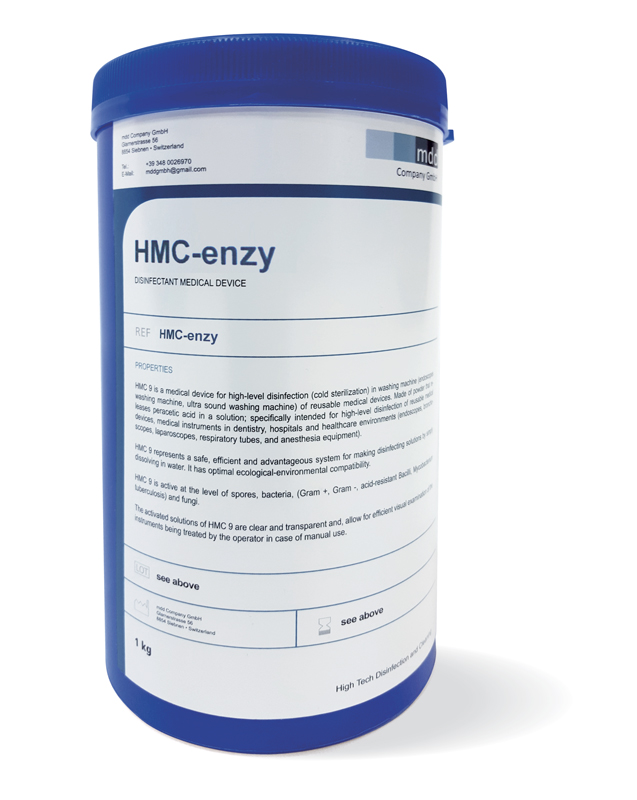 HMC Enzy
HMC Enzy is a medical device for high-level disinfection (cold sterilization) for manual use of medical devices in hospital environment, dental practices, medical health care centers such as surgical or dental instruments.
The action of HMC Enzy is performed at the level of spores, viruses (including hepatitis B, C and HIV viruses), bacteria (Gram +, Gram -), acid-resistant Bacilli, Mycobacterium tuberculosis and fungi.
The Enzymes break up the protein organic macromolecular substances which often accumulate on medical and surgical equipment. HMC Enzy gives a safe and rapid decontamination and detergent effect in a single operation.
HMC Enzy is therefore suited to a wide range of applications in hospitals, in dental clinics and in healthcare as it substantially reduces costs by reducing the time required to clean and disinfect medical equipment.
Easy to use, once the correct amount of powder (as indicated in TDS) is mixed into luke-warm tap water, it become PerAcetic Acid (PAA).
Fast activation, with simple luke-warm tap water (30-35°C) in only 15' the solution is activated.
Fast High Level Disinfection, in only 10' the activity is confirmed with the most part of micro-organism.
Safe, the solution is not harmful for operators and for environment
One action – Three steps