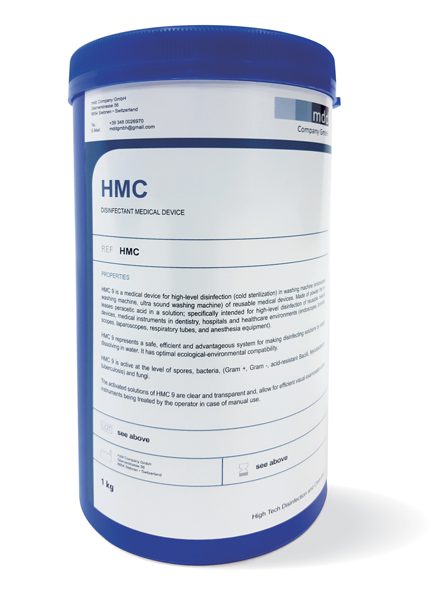 HMC
HMC is a medical device for high-level disinfection (cold sterilization) of reusable medical devices. Made of powder that releases peracetic acid in a solution; specifically intended for high-level disinfection of reusable medical devices, medical instruments in dentistry, hospitals and healthcare environments.
HMC represents a safe, efficient, and advantageous system for making disinfecting solutions by simply dissolving in water. It has optimal ecological-environmental compatibility.
HMC is active at the level of bacterial spores, Mycobacterium tuberculosis and common bacteria, (bactericidal, tuberculocidal, sporicidal), yeasts (yeasticidal) and viruses (including hepatitis B, C and HIV viruses).
The activated solutions of HMC are clear and transparent and allow for efficient visual examination of the instruments being treated by the operator in case of manual use.
Safe
No Boron emission (complying with the EEC regulations and the W.H.O. advices)